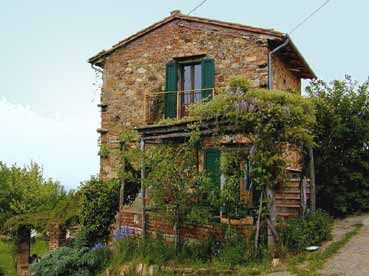 Le Grazie is a small medieval farmhouse and lies high up on a hillside in the magnificent Tuscan landscape 1 km north of Montepulciano. The top floor
contains a large bedroom with double bed, bathroom, balcony and panorama terrace. The kitchen/living room on the first floor has a double sofa bed, an open fireplace, satellite TV and is comfortably furnished. The adjoining verandah with its pergola invites one to eat outside in the shade under the
canopy of climbing plants.
The view from the house lets ones eye travel far over the hilly Tuscan landscape, with its olive groves, vineyards and sheep pastures to the Chiana valley and Cortona. The estate `Le Grazie´ comprises 2 hectares of land with olives trees, pines, fruit trees, vines und meadows. The swimming pool, which can be used by the guests, is bedded into the natural landscape below the house. Olive oil from the owner´s production (Extra Vergine,
pesticide-free)can be bought in small quantities.
If desired, we can offer Tuscan / Italian cooking evenings at the house as well as guided tours (day excursions). Individual courses in art, photography or Italian can also be organized (prices on individual inquiry).

Prices on request. Contact us to grazie@toscanafriends.com