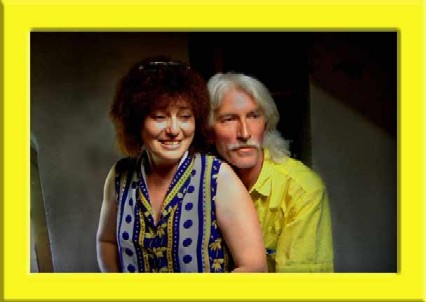 The small house `Le Grazie´ lies in a hidden corner of the countryside just outside Montepulciano. The hillside setting with spectacular views across the valley to the mountains in the far distance is a paradise of unspoilt nature. Klaus, a passionate photographer, fell in love with the landscape around Siena many years ago. A dream came true in 1989 as he was able to buy this house with its 2 hectares of land (including vineyards and olive groves).
After a 20-year-period working as a teacher of Arts and English in Stuttgart (Southern Germany), Klaus decided on a new life with Joëlle in his house in Tuscany. Here he devoted his time to the olive trees (producing biologically Extra Virgin Oil) as well as the vineyard, photography and music (he plays keyboards with the `Blue Gang´, a blues/swing group from Arezzo and also performs with a traditional blues group `Three Blues´).
Joëlle made the same decision in 1977 as she moved from her parental home in Nice (Southern France) to Tuscany. Her passions do not only include the beautiful landscape, the people, amateur dramatics or her work as a nursery school teacher. She values most the quality of life offered by Tuscany (friends, art and culture, nature and the excellent cuisine ... explore
these for yourself!).
Klaus is a native speaker of German and fluent in English and Italian.
Joëlle is bilingual in French and Italian and speaks German and English, too.